I'm 25, I got married in July of last year to an amazing King and everything was going great! He, however, got a job abroad and left in August of last year. he came back home two months ago and of course, he wants sex all the time! But I seriously can't keep up because I'm having these terrible back pains. I know I need to exercise more, but my work schedule is crazy, most times I'm sitting from 8 am-8 pm. What can I do for the sex life before he leaves in August again? I really want to treat him for our anniversary later this month. Help Mama, please!
-Pain-up Yani
Advice:
Putus! Congratulations on the almost one year of marriage! I'm so proud of you both, and no worries, I have some advice that I think you will not only enjoy but will appreciate as well because these positions will help to alleviate the strain off of your back. 
Try doing these positions whenever you both decide to have sex again.
-Sitting on his lap while he is sitting sturdily on a chair. You can face him or turn your back to his chest, whatever makes you comfortable. This position utilizes your pelvic and hip muscles.
– Lying on your belly with a pillow propping up your chest. This allows your husband to enter from behind which eases the strain on your back as you are in a resting position.
– Another excellent resting position, lying on back with your knees pulled to your chest. This can provide a great way to stretch your pelvic muscles and lower back too.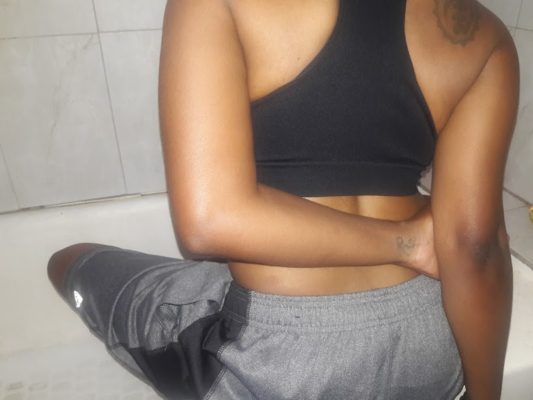 For the actual back pain, I recommend:
-Take a peg of garlic before bed and a tablespoon of Aloe Vera gel in the morning to decrease inflammation that can cause pain.
– Getting up from your chair periodically and stretch for a few minutes after every hour or two at work. If you're sitting for an entire day, your muscles build up lactic acid which causes muscle pains.
Mek mi know how everything guh. Tek care and live well!