The Central Region will launch the 2018 Jamaica Culinary Arts Competition's Regional Culinary Champs at the Kendall Camp Ground in Mandeville, Manchester on Friday, April 20. The regional champs, which is free and open to the public, will see competitors mainly from the parishes of Clarendon, Manchester, and St. Elizabeth competing in categories such as Hot off the Grill, Special Diets (Live Cooking), Fruit and Vegetable Carving, Baked Treats, Mixology, Cold Desserts, Hors-d'oeuvres, Sandwiches and Salads, the Dutchie Dash and the Star Chef cook-off. Organised by the Jamaica Cultural Development Commission, an Agency of the Ministry of Culture, Gender, Entertainment and Sport, the Jamaica Culinary Arts Championship will host four regional champs throughout the months of April and May.
Following the Central Regions' champs on April 20, is the Eastern Region  on May 3 and 4 at the Eli Matalon Gymnasium at the Mico University College in Kingston; the Western Region on May 11 at the Sean Lavery Faith Hall in Westmoreland and the Northern Region on May 18 at the St. Mary Anglican Church Hall in St. Mary.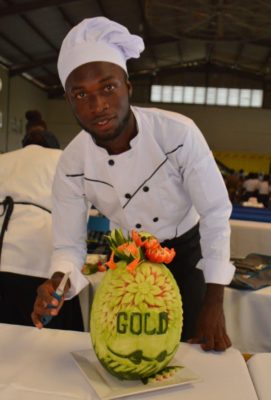 Participants will first compete in the competition's Regional Finals, with the winners moving on to compete in the National Championship during the Jamaica Independence Festival in August.
"The 2018 staging of the Jamaica Culinary Arts Competition promises to be especially exciting and interesting as we focus on presenting local foods in a creative way. We look forward to some amazing meals and can't wait to get participants involved." Said Paula Williams, JCDC Culinary Arts Development Specialist.
For the past 55 years, the focus of the Jamaica Culinary Arts Competition has been to showcase the creative talents of Jamaicans in the culinary arts, while promoting a healthy lifestyle and wellness. It also seeks to encourage innovative and creative use of local foods and to stimulate creative talents and provide opportunities for exploring the economic potential of our local foods.