Somewhere on the West End, Bob Marley's could you be loved fills the air and sitting on the other side of the table is Brad Adams. Today he's clad in shorts, sneaks and his signature Great Shape! Inc. Teach the Teachers T-Shirt with the word LOVE splashed across the front.
Brad Adams is a board member for Great Shape! Inc. – a non-governmental, 501(c)(3) charitable non-profit organisation which leads some of the world's largest, international, humanitarian projects. He is the Co-Director for Great Shape! Inc.'s SuperKids Literacy Initiative and also the Founder of the organization's Teach the Teachers Programme.
Teach the Teachers is an award-winning programme, which has been lauded by the Ministry of Education. Volunteers include middle and high school teachers, social workers and band teachers from the United States as well as representatives from Microsoft who visit the island and conduct training sessions with teachers
Over the years, several schools have also hosted the programme including Green Island High, Mannings High, Savanna-La-Mar High, Grange Hill High and Godfrey Stewart High, all of which have had computers donated to their school lab.
According to Adams, "When we started this programme there were teachers who didn't know how to properly use a mouse,  and now some of these same teachers are creating their own digital stories, they understand computer hardware and troubleshooting and they are integrating computer technology into every aspect of their personal and professional lives."
The students are the ultimate beneficiaries as the knowledge teachers gain during the Teach the Teachers workshops is not only making them more adept to modern technology but allowing them to implement these strategies to improve the literacy levels of their students.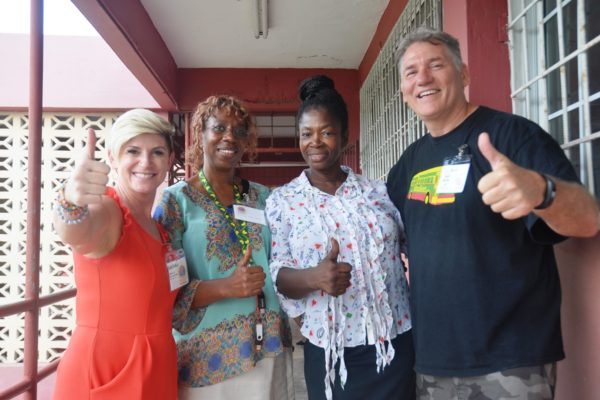 Marcia Clarke-Dann, a senior teacher at Grange Hill Primary attended the very first Teach the Teachers workshop seven years ago and has attended every year since. "Teach the Teachers is an excellent programme that I would recommend to any teacher. Over the years I've watched the programme evolve," said Clarke-Dann. "I particularly appreciate the one-on-one instruction and support it promotes in a relaxed learning environment."
"For the first four years of Teach the Teachers we focused primarily on computer technology," said Adams. "Sandals Foundation and Sandals Resorts International came on board in the fifth year of the programme and their support has really allowed us to do so much more than we ever imagined like expanding the programme to include language arts and classroom behavioral management."
Additionally in the earlier years of the programme, it was harder to recruit volunteers as they would be responsible for their own airfare and accommodations.  The partnership with Sandals however alleviated this issue by providing accommodations, meals and logistic support.
A LOVE FOR TEACHING AND TECHNOLOGY
 What Brad Adams has accomplished through the Teach the Teachers and SuperKids programmes is no small feat and he would do it again in a heartbeat.
Growing up in Washington, USA, with both parents as teachers, Brad quickly developed an appreciation for teaching. He graduated from Whitworth University with a Business Management Degree, later got his teaching certificate and  currently teaches Business and Physical Education .
Adams shared, "I first visited Jamaica back in 1998, and I remember journeying out to a school in Treasure Beach. I was immediately enamored by that experience and wanted to do it again. Through Great Shape! Inc. I ended up coming back to Jamaica in 2007 as a volunteer with their 1000 Smiles Dental Programme. That year myself and another volunteer distributed 10,000 reading books to school libraries."
That sparked the idea of the SuperKids Literacy Initiative which launched in 2008. "When we started SuperKids, we were working with five schools and focusing on music, art, language and computer technology. We also provided these schools with computers," said Adams.
For Superkids, which now operates in 40 schools in Westmoreland and Hanover, Adams still ships over 10,000 pounds of computer equipment to Jamaica annually.
"SuperKids was a great initiative but soon after the programme started we realised a challenge or as I often say an opportunity," said Adams. "We would donate computers to the schools and go back a year later only to find that the machines were hardly used. It became apparent that the teachers did not have the necessary skills to teach computer technology."
This led Adams to create the Teach the Teachers programme, which launched in 2011, mainly appealing to primary and early childhood teachers. He said, "I do this because I love Jamaica and I enjoy working with the Jamaican people and immersing myself in the culture. As our volunteers often say, you come here to give back, but often times we are the ones who end up leaving with so much more."