On Saturday, December 16th, The Phillip Sherlock Centre for the Creative Arts was blessed with the dramatic stylings of Tribe Sankofa and its special guest performers.
The event titled Word Soul: The Miss Olive, Oku and Jamaica Land We Love? Edition, directed by Fabian Thomas and Darien Reid, began with beautiful poetry from Jamaican writer and narrator, Yashika Graham. Her poetry was the perfect start to an amazing night as she had the audience riveting to her every word.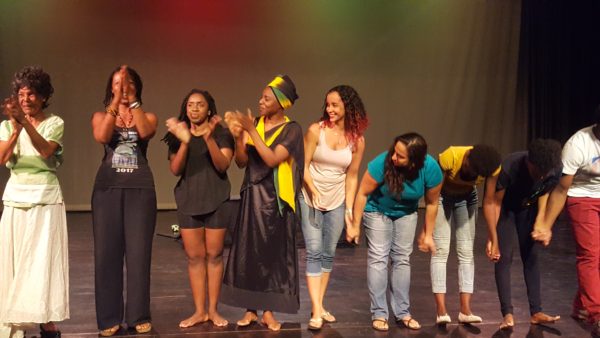 And just when we thought it would not get any better, distinguished guest performer, Leonie Forbes O.D, veteran theatre act, treated the audience to words from Oliver Senior's 'Yuh Tink I Mad Miss?'. With years of experience to draw from, her performance took us into a different world and made us feel as if we were a part of the story.
Other guest performers included percussionist Ouida Lewis, actress Makeda Solomon, theatre producer Deanne Algrove, Prime Minister Youth Awardee in the category of arts and culture and Real Friends star, Shantol Jackson, actress and voice-over artist, Noelle Kerr, and dancer Shanese Johnson.
The members of Tribe Sankofa comprise of talented actors and singers, along with its equally talented guest performers treated the audience to a soulful night of performing arts. The collective's interpretation of works by poetry gurus Olive Senior and Orlando 'Oku Onuora' Wong had the crowd going through various emotions ranging from satirical humour to thoughtfulness.
The highlight of the night, however, was the performance of the Tribe's assistant artistic director Darien Reid. The 22-year-old's original piece entitled 'Jamaica Land We Love?' told a tale of Jamaica's ongoing crime problem in a creative way with guest performer, Makeda Solomon who presented the role of a Jamaica speaking to a citizen who was on the brink of death with the recurring remark, "there is a strange colour emerging in my flag". The piece had the audience's attention from its beginning and with a loud applause at the end signaling its success.
One patron, Tashaun Adams at the end of the show said,"everybody was on point. Everything was perfect from start to finish. I will definitely be attending the next edition". With words like that, we say hats off to Tribe Sankofa and its special guest performers on a job well done.