Let's set the stage. 
It's Saturday. You're bored. It's been a long week and you want to get out of the house. You don't necessarily want to spend a bag a money, because let's be honest, once you step outside these days, 10k magically flies out of your bank account. Sas Chrise.
But fear not. I have taken care of everything. Your itinerary on this beautiful Saturday awaits below:
Ideally, we're dressed in our swimsuits, our essentials are in our bag and we have $5000 in our pockets. Now, our beginning point for this (particular) journey is Cornwall Courts – so taxi fares will vary. But one taxi from CC to Union Street is approximately $130. Alright! 
We don't know where we're going to end up. But we know how much we ago spend. I took this as the opportunity to check out MoBay's latest attraction: Harmony Beach Park. 
From open waters to a decent selection of sporting activities and eateries, it's the most ideal first destination for our mini-adventure. Entry is free, however, if you are parking, it's about $200 per hour. 
The park has 132 Parking spaces, but smack in the middle of MoBay on a Saturday, that's hardly enough. So if you want a good spot, I suggest you go early – or as they say, dawg ah nyam yuh suppa. 
Once inside, the first thing you'll notice – is the heat. Sun nuh ramp ova deh suh. Make sure to bring your sunscreen, a large beach hat, and your cutest (or manliest) pair of shades. Once you resign yourself to the heat, sixteen (16) acres of well-manicured grounds await you. 
The park itself boasts spacious (and very clean) restroom/changing room facilities, two (2) children's play areas, a jogging trail, a promenade along the beach (big up Duke Hastings!), a multipurpose court, and a designated beach volleyball area. 
One of the major advantages of such a large space is the availability of picnic areas for dates – be it friendship dates or romantic ones. The lawns are available for rent on a first-come, first-serve basis. So once you decide, make the call and book! 
Now, you're saying. Kriss – I know nothing about booking a picnic. That's okay. Save Room for Dessert has you covered. I happened upon this cute picnic set up on my promenade (does it make me fancier when I say that?) and couldn't help but faas.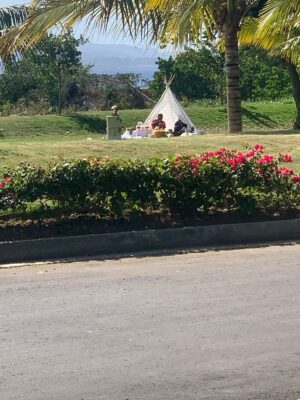 All you need to bring is yourself, your snookums or friend, and your food. Save Room For Dessert takes care of everything else. Check out her packages on her Instagram. #WeSupportWomenInBusiness! 
Exploring the grounds was beautiful but one thing about me is… me?? Ago lost. 
Thankfully, the staff at the park is very nice and polite. We were able to get all the information we needed about where to go, what was available to use, and how we could get further assistance if we wanted it. 
All that walking and faasing in people business made me hungry. Now, me is a girl that walk wid har belly. So I was ready to go get some food.
You can choose from several kiosks (really hope I can call them that) depending on what you feel for. Jerk Chicken and Pizza and Hot Dogs, oh my! With the opportunity to have Devon House Ice Cream, for dessert? Take. My. Money. 
Big up Susie's Beach Grill, because that's where we stopped, under some cool, well-needed shade. 
For this adventure, I enlisted my beautiful friend, Tanique Spence. Simply because I wanted to hang out with my friend. 
I ordered a full house hot dog, a Rum and Coke, and a Smirnoff Guarana. Don't judge me. Tana ordered a cheeseburger meal and a Pepsi. We roughly spent about $1500 each for our meals. And a suh we eat, ah suh we chat. Quite comfortably in our little nook of the park. 
The sound of the lifeguard's whistle was a very gentle reminder that it was our gyoming home time. We made like RushCam (Pack Up!) and started debating what we wanted to do with the money we had left. 
And for the part, you've been waiting for. Here is the final verdict. Harmony Beach Park: 9/10 would recommend it to a friend and some cousins (the one point was for the heat. Unfair, I know.)
For more information on the park, special events, or even to see if you get featured one day, be sure to follow them on Instagram to learn more. Tell them I sent you ;). 
But for now? It's about 6:00 p.m. on a Saturday night. You know what that means. Drinks! So we're on to our next spot with $2000! 
Bet you can't guess where we ended up with the rest of our budget. Check out part two for the rest of the adventure!