When Thomas and Nancy McGann visited Sandals Negril in 1994 on their honeymoon, they were expecting a luxury-included, romantic getaway with a generous serving of sun, sand, and sea. They got that, but with only two days left in their vacation, they came upon something more; a chance meeting with Sharon Amrose that would blossom into a 25-year friendship.
"We had gone out water-skiing when we met Sharon out in the water and struck up a conversation with her," said Nancy. "We learned that she would be moving to Boston where we lived at the time."
"Personally, I wasn't trying to meet anyone, I just wanted to connect with my new wife," said Thomas. But Sharon introduced the couple to her husband, David and something just clicked.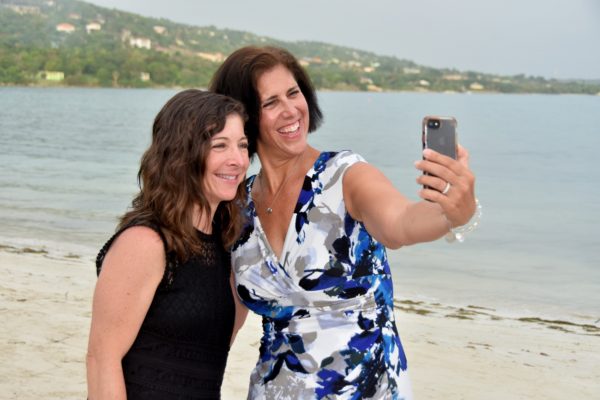 The couples soon learned that not only were they both on their honeymoon but they had both gotten married just one day apart.
"Those two last days of our vacation, spending time with Thomas and Nancy were the best," said Sharon. "We exchanged numbers and promised to stay in touch." Now we know how those promises often go, but not this one. David and Sharon didn't have a phone as they were moving. But the moment they got one they reached out to the lovely couple they met in Jamaica.
"We were so happy to have David and Sharon living in Boston," said Nancy. As a matter of fact, still a little homesick from their amazing Sandals vacation in Jamaica, Nancy invited David and Sharon over and prepared a Jamaican meal. This would be their first dinner together.
"That food turned out to be the worst meal we had ever prepared', said Thomas. 'It was so bad we had to order takeout."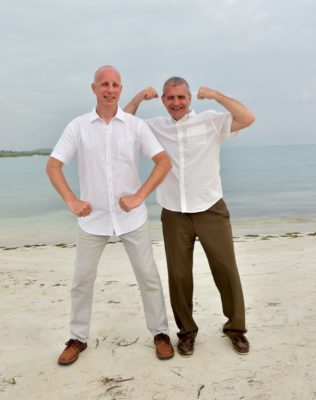 However, not even a terrible first meal could put a damper on this budding friendship and not only have they lived to laugh over that meal but they've had many amazing dinners together over the years. Like that Sushi Boat experience in Florida or Sharon's first Christmas dinner at Nancy and Thomas's place.
"Every time we get together it's a fun time, a great memory," said David. There have been many more great times, many memories and many firsts.
Between both couples, there are five sons of which Toddy, Thomas and Nancy's son, is the first. "I'll never forget the day Toddy was born and I held him for the first time or changed his diaper," said Sharon. "He was the little practise child for me and David."
When Sharon became pregnant she says Nancy was her go-to Mom. "I think I called her every minute," she says, laughing.
Currently, the McGanns live in Idaho, Colorado and Sharon and David live in Washington, Florida. They're approximately 2000 miles separated, but according to David, no distance can keep them apart.
David and Nancy both work in the health sector; David a doctor and Nancy a physical therapist, while Thomas works as a University administrator and Sharon, a lawyer by profession.
Perhaps their most notable difference is their approach to travel. David and Sharon have spent a considerable amount of time island-hopping across the Caribbean, even putting down anchor in Sandals Royal Bahamian for their 10th Anniversary. Whereas Thomas and Nancy waited on that super special 25th anniversary to make the trip back to Jamaica.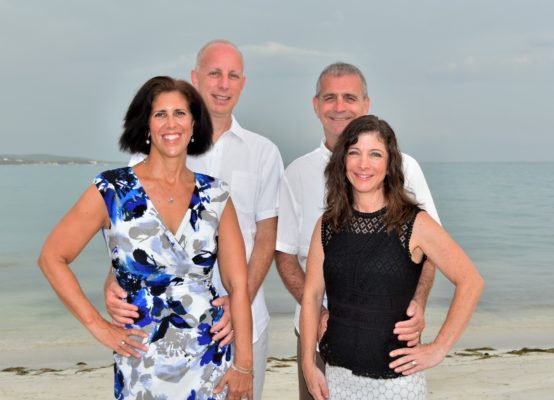 And for such a milestone, where better to celebrate than Sandals South Coast.
"When Tom and I are back home we play hockey together, but when we're in the Caribbean we drink together," says David. And with all the memories these two probably have to mull over it's a good thing that Sandals keeps the drinks coming without the worry of running up a bar tab.
When we caught up with both couples inside the Giuseppe's restaurant at Sandals South Coast they were beaming with joy at being reunited yet again and at this newly discovered paradise.
'We're loving it here," said David. For he and Sharon, who consider themselves avid travellers, Sandals just offers more: the beach, quality global gourmet dining, and a romantic atmosphere. Being watersports fanatics, the added snorkelling, SNUBA, and unlimited diving is a plus.
For Thomas and Nancy, Sandals offers that chance to just unplug. "Not only is our Sandals vacation more upscale, it is a real stress-free getaway with lots of activities and options so you can do it all or do nothing at all."
They are truly in love with the Sandals brand but perhaps what they're most grateful for is that it brought them together.
"Sandals is really where it all started, it was the beginning of two great marriages and one amazing friendship," said David.
As for the next Amrose/ McGann Jamaica getaway, we're not sure when that will be but the team at Sandals knows that no matter where they are Thomas, Nancy, Sharon, and David have developed a beautiful bond that has stood the test of time and they're happy to know that in some small way the resorts made for love, helped to make that happen.